Welcome to the Mythos Compendium
This is a collection of high power classes and other such things for D&D 3.X. Currently we are moving over the classes from Giant in the Playground Forums. To see the original go here: http://www.giantitp.com/forums/showthread.php?335295-Mythos-Compendium.
If you wish to help with the wiki, here is what we are currently working on.
Giving input and discussing existing classes, both complete and WIP (Work In Progress). This is never leaving this list probably.
Moving Lanth Sor's Mythos Material over from the GitP Forums.
Moving Xefas' Mythos material over from the GitP Forums.
Looking for a background graphic, you know a picture to fill the background around this central column of lighter grey backdrop and bright grey text.
Format Consistency Checkers, if you see something that's out of The Format Default, updating it would be nice, but don't change anything.
A Site Beautifier, someone who is capable of making this wiki look nicer and more organized, would be much appreciated and loved by all.
Mythos Classes
Racial Paragons
Work In Progress Material
Wiki Templates
Latest activity
Photos and videos are a great way to add visuals to your wiki. Find videos about your topic by exploring Wikia's Video Library.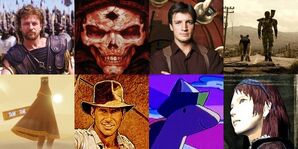 Community content is available under
CC-BY-SA
unless otherwise noted.